Several protective clothing articles should be worn when operating powerful machineries like chainsaws, including a helmet, goggles, ear defenders and work gloves. However, this list can be forgotten because of chainsaw chaps – protective trousers made from heavy-duty fabrics that resist against the impact of a running chainsaw. As you might imagine, the normal fabric is no match for a machine that can cut through wood, so it's imperative to wear chainsaw safety gear for the legs if an accident occurs.
High-quality safety chaps are must when working with a chainsaw. They are referred to as Trouser Shields and worn over the chainsaw user own trousers. Most offer protection to the legs' front, but users must be cautious as the legs' back is still prone to injury, while using the chainsaw.
We have compiled the list of top 5 chainsaw safety chaps considering comfort level, safety and precautions. We hope you find the best solution for you from our in-depth chainsaw chaps reviews.
Check Our Top Chainsaw Reviews – Husqvarna | Echo | Poulan | Gas Chainsaw | Pole Saw | Handheld Mini Chainsaw | Pocket Chainsaw
Check Our Top Chainsaw Accessories – Cant Hooks | Chainsaw Mills | Chain and Bar Oils | Felling Wedges | Firewood Racks | Sharpeners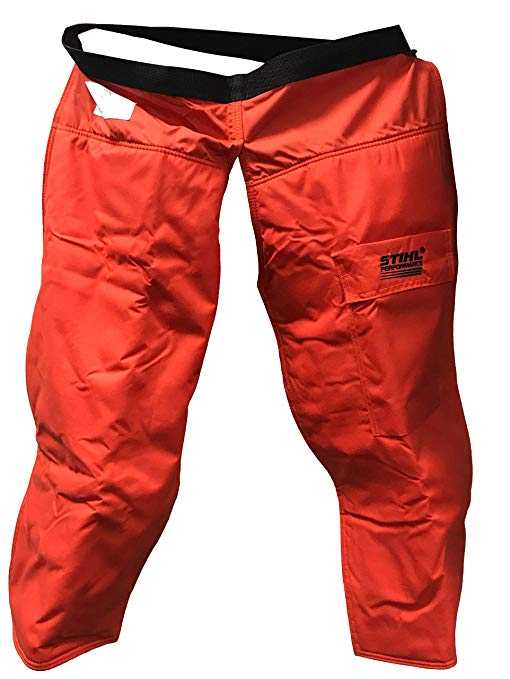 Best Chainsaw Chaps 2023
| Chainsaw Safety Chaps | Photo | Latest Rating | More Information |
| --- | --- | --- | --- |
| Forester Chainsaw Apron Chaps with Pocket, Orange 37 Length With Adjustable Belt | | | CLICK HERE |
| Husqvarna 587160704 Technical Apron Wrap Chap, 36 to 38-Inch | | | CLICK HERE |
| Labonville Premium Chainsaw Chaps - Overall Length 40" - Made in USA - Green | | | CLICK HERE |
| Cold Creek Loggers Professional Forestry Cutter's Combo Kit | | | CLICK HERE |
| Elvex Forester Arborist Apron Chainsaw Chaps, Waist Size 28 – 44-Inch | | | CLICK HERE |
Check out our Top 5 Chainsaw Chaps:
Forester Chainsaw Apron 37-Inch Chaps with Pocket, Orange With Adjustable Belt
The Forester Chainsaw Apron Chaps are a basic and inexpensive pair of chainsaw chaps in various designs, colours, and sizes. As an apron-style chainsaw chap, they fit around your legs much like an apron and are not full-sized pants. This means that they are worn on top of your existing clothes and strap on to your legs to protect them when you're using a chainsaw.
These open-back chaps meet ASTM and OSHA regulations. They're relatively comfortable to wear, although they're much hotter than they should be, given their open-back design. They're available in a variety of sizes and colours. Putting them on and taking them off is simple once the straps are properly adjusted to your fit. Once they're properly fitted, you'll have a full range of motion while wearing them.
Salient Features-
The Chainsaw chaps are UL recorded

Water-resistant

Fold over the front of your legs
Husqvarna 587160704 Technical Apron Wrap Chap, 36 to 38-Inch
Made by Husqvarna, the pack leader in basically everything to do with chainsaws, these chaps are the top of the line. They're available in 36-inch to 42-inch sizes (note that this is waist to ankle, not inseam), with a 42-inch adjustable waist. Four straps per leg — three on each calf, and one on each thigh — are easy to buckle and tighten.
It never takes more than a minute to get these chaps on, and never more than five minutes to forget you're wearing them. These chaps use 1000-denier polyester as their base material, reinforced with a PVC coating and extra protective wraps.
It's comfortable enough to hike through the woods in, yet tough enough to stop a chainsaw blade from running right through them (don't worry, we weren't wearing them when we tried). They protect users to guard against a cut to the boots' calves and back, which we often don't see in many safety chaps.
Salient Features-
Back-of-leg' fold over' insurance

Produced using PVC-covered polyester and Tek twist

Abdomen size customizable up to 42-inch

The chaps have a Tek wrap defensive layer

It has a felling wedge/gear pocket.
Labonville Premium Chainsaw Chaps – Overall Length 40″ – Made in USA – Green
Labonville's chaps are a premium option for chainsaw leg protection. They come at a higher price than picks one through three, but they earn that extra cost. To start, they're American made. If that's important to you, Labonville is the product for you.
The chaps themselves start with five layers of the kevlar-polyester blend, which helps them resist cuts while remaining comfy and light. Labonville rounds them off with 1000-denier nylon and a finishing coat of heavy-duty urethane.
They are also perfect at resisting thorns and brambles. The safety chap has straps easy to adjust, making it a perfect fit for users of all sizes. We can always vouch for these safety chaps for any heavy-duty job.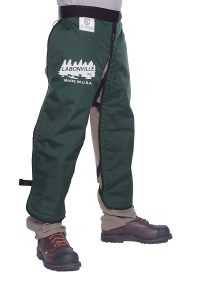 Salient Features-
​Fully protect your legs

OSHA principles are met

It comes in four distinct sizes
Cold Creek Loggers Professional Forestry Cutter's Combo Kit
Coming to the last model of our forester chainsaw chap review, we would like to add this amazing model from Cold Creek, which is made of extremely thick and dependable material. First of all, the material is made of the fusion of different fabrics capable of keeping the legs at ease and extremely protected. The fabric used by this chap provide additional strength and durability, along with it has water resistance and oil resistance capability.
Furthermore, this chainsaw safety chap meets many safety standards. Considering all these benefits that this chap provides, we can say this is one of our list's best product.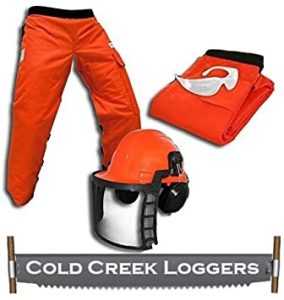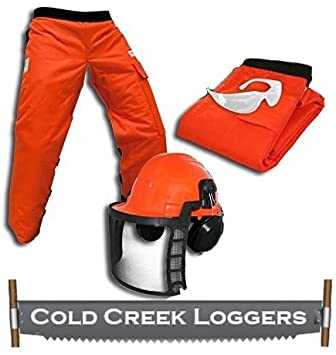 Salient Features-
Protects your legs

Designed for comfort and durability

Easy to use

Certified for safety
Elvex Forester Arborist Apron Chainsaw Chaps, Waist Size 28 – 44-Inch
Elvex's ProChapsZ is another wrap-around set of chainsaw chaps, which use a clever combination of zippers and straps to achieve a comfortable fit. While Elvex isn't as well-known as other brands in this review, these chaps feature an intriguing design that we think is worthy of a more detailed look.
Equipped with a 1000 denier nylon outer and a polar padded inner layer, these chaps meet the UL and ASTM standards for chainsaw chaps. The ripstop outer is also waterproof, and when combined with the extensive coverage of these chaps, offers an attractive proposition for buyers in wet areas of the country.
These safety chaps have an additional feature of thigh strap on back for extra safety and left side cargo pocket to keep all tools and accessories. They are a great set of chaps that will be a good choice for most buyers.
Salient Features-
OSHA and UL safety certifications

Adjustable straps on the back for the perfect fit

Uses a mixture of kevlar and polyester
Chainsaw Chap Buying Guide
A person working with a chainsaw should invest in these chaps. Making a wise choice and investing in the best one, among various options is quite a hard task. So, here we are providing some key factors which you have to consider while purchasing them.
Safety Regulations
The chainsaw chaps are used as safety equipment to wear while using the chainsaws. It has to follow some regulations and possess safety certification. The chainsaw chaps with certification mean it is tested under various conditions to provide a highly safe and secure chainsaw chop for using with a chainsaw.
Price
The price of this chainsaw chaps will range between $40 – $300, depending on their features, brand, type of material used, & its size. So, choose the chainsaw chaps after comparing various best products and get the one which comes within your budget. Also, you have to check the manufacturer's warranty for a particular product to make it a quality purchase.
Comfort
One has to wear the chaps until and unless you work with a chainsaw (for a long time). So, it must offer comfort with the perfect size, material, brand. It has to provide enough room for easy movement with a manageable weight and comfortable to wear. The weight of chaps won't be heavy to compromise movement or light as lower quality. It should be breathable to provide comfort while working with these power tools, especially in summer.
Size
One has to feel comfortable and protected when wearing the chainsaw chaps, to have a piece of mind while working. Most of the chaps offer waist coverage from 28 – 44 inches. , measure the length of the legs from the waistline to feet to properly cover the body. Wearing any incorrect size will definitely leave the body parts uncovered and may get any accidental injuries.
Material
The construction material used to make the chainsaw chaps will determine its safety and comfort. It has to be made with durable and high-quality material, including a core with more layers for added protection. The comfortable chaps come with softer inner linings with an ergonomic shape.
Check whether the chaps you're wearing is suitable to use with electric chainsaws or gasoline one, to prevent any injuries.
Conclusion
As we conclude this review, we would like to say that chainsaw chaps are extremely important for anyone who regularly works with a chainsaw. You may have a carpenter shop or a part of a high-end logging firm; this product's requirement is vital.
For your ease, we have provided you with all the leading chainsaw materials alongwith the buying guide. These safety chaps are durable, safer and made of high-quality material. With these wrapped around your legs, you can work without worrying about any harm happening to you as you carry on with your daily job.