Operating any powered saw requires considerable safety precautions – but none more so than when you're using a chain saw. Even the safest, well-designed chainsaw becomes incredibly dangerous due to operator error or unexpected conditions.
Besides choosing great chainsaw equipment and cut-resistant clothing, equipping yourself with the best chainsaw gloves you can find will make your work safer and more comfortable.
For your protection, you need gloves that meet ANSI & ISEA standards, which can be challenging to find. That's why we have made a list of the top 5 chainsaw safety gloves for every price range and purpose. Continue reading to discover everything you need to know about safety gloves.
Check Our Top Chainsaw Reviews – Husqvarna | Echo | Poulan | Gas Chainsaw | Pole Saw | Handheld Mini Chainsaw | Pocket Chainsaw
Check Our Top Chainsaw Accessories – Cant Hooks | Chainsaw Mills | Chain and Bar Oils | Felling Wedges | Firewood Racks | Sharpeners
Best Chainsaw Gloves 2023
| Chainsaw Safety Gloves | Photo | Latest Rating | More Information |
| --- | --- | --- | --- |
| Husqvarna 579380212 Protection Gloves | | | CLICK HERE |
| Youngstown Gloves Titan XT Lined Kevlar Glove | | | CLICK HERE |
| Endura Hi-Viz Cut-Resistant Chainsaw Gloves | | | CLICK HERE |
| Echo / Shindaiwa 99988801600 Chainsaw Gloves | | | CLICK HERE |
| Vgo Chainsaw Work Gloves Saw Protection | | | CLICK HERE |
Check out our Top 5 Chainsaw Gloves:
Husqvarna 579380212 Size 12 Functional Saw Protection Gloves, X-Large



Husqvarna Chainsaw Protection Glove is an excellent choice for anyone that uses a chainsaw. This is designed for a right-handed person in mind as it features cut resistance in the left-hand glove.
It has a comfortable design and uses spandex fabric that adjusts and comfortably grips on the hand. For added protection, the palm of the glove is made from goatskin leather. It's durable and sturdy and prevents cutting and penetration of sharp objects into the hand.
These gloves are designed for everyday use. The soft grip and comfortable fit make it convenient and durable to use. The additional support is provided to your hand, as you have to hold the trigger while using the chainsaw.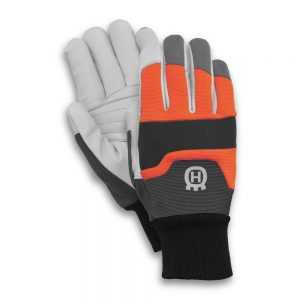 Salient Features-
Cut resistance in the left hand.

Spandex fabric back.

Goatskin palm for added durability.

High visibility colors.

Reflective Crown H logo
Youngstown Glove 09-9083-10-XL Titan XT Lined with Kevlar Glove, X-Large
Youngstown general utility anti-vibration gloves are not specially designed for a chainsaw chain. But it's durable enough to protect from cutting injuries. It's a heavy-duty, all-purpose glove that offers protection from tough jobs.
The interior is lined with Kevlar fiber that improves the puncture and cut resistance. It's a very versatile glove that can be worn when using a wide range of gardening tasks such as rigging, recycling, logging, farming, and many more.
The glove is ANSI marked, which makes it suitable to do any landscaping work or gardening task. The knuckle layer protection avoids any injury to fingers. It's easy to clean and suitable for machine wash.
Overall, it's an excellent glove for both professional and occasional users. The full Kevlar lining inside the glove provides excellent protection, although it reduces a bit of flexibility.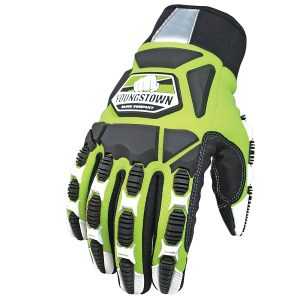 Salient Features-
Fully lined with DuPont Kevlar fiber for increased durability and resistance-supportive cuff plus Velcro closure.

High-visibility lime coloring increases your hand awareness.

Reflective 3M Scotchlite on the wrist underside and the knuckle.

Non-slip reinforced palm, saddle, and fingers enhanced durability and grip.

5.omm EVA foam sewn into the palm helps dampen impact and vibration.
Endura Hi-Viz Cut-Resistant Chainsaw Gloves- 385CS/M
As a chainsaw operator, you may need a comfortable, good looking, and dexterous pair of gloves to go about your daily work without fuss. First, these gloves are designed with eight layers of Kevlar as a lining at the back of the glove for the left hand.
Another lining consists of woven Kevlar lining to arrest the chain if it snaps and catches your hands in the midst of using the chainsaw. This lining is capable of protecting you from chain cuts as it withstands chain speeds of up to 3140 feet per minute.
These gloves are EN 381: 1999 Class 0 standardized, which ensures you the highest level of protection at the highest level. A water repellent and breathable membrane keeps out moisture and ensures that your hands stay dry throughout.
Salient Features-
Meets EN 381:1999 Class 0 for the chainsaw gloves.

Smooth grain, water-repellant goatskin leather palms with built-in vibration reinforcement.

Elasticized Velcro wrists enhance comfort and keep out debris.

Hi-viz yellow blacks ensure optimal visibility.

Stretchy Lycra/nylon fabric at the back of the hands involves a water-repellent, breathable membrane
Echo / Shindaiwa 99988801600 Chainsaw Gloves (Orange/Black) – Medium
Echo Kevlar Saw gloves have several beneficial features that protect you from chainsaw cuts. This is a truly versatile glove that can be used when using other gardening tools.
It has 2 thick layers of Kevlar on the back of the glove to provide you a better cut resistance. The glove's front has goatskin leather that provides a comfortable firm grip while holding the chainsaw or other gardening tools.
Flexible and comfortable material makes it easier to wear while working. The Velcro wrist feature allows you to keep dirt and debris from getting inside the glove. Good quality fabric and durable stitching on the gloves mean that it provides long-lasting protection.
Salient Features-
Double Kevlar layer at the back

Foam pads for vibration reduction

Goatskin leather for comfort

Reinforced knuckles and fingertips for a firmer grip

Velcro wrist provides a tight fit
Vgo Chainsaw Work Gloves Saw Protection on Left Hand Back
As far as reasonably priced gloves are concerned, these are your best bet yet. They came in high visibility orange and made from breathable and ergonomic materials like goat leather and spandex. These materials provide increased dexterity and maneuverability for the wearer.
It is equipped with PVC padding on the palms that provide extra grip and durability when operating a chainsaw. The thumb and the index fingers are equipped with touchscreen compatible materials so that you can use your devices without having to remove the glove.
The comfortable fit and durability make them a good choice for users looking for value for their money.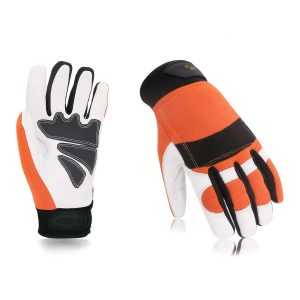 Salient Features-
Ideal for logging, forest, metalworking, hand tools, power tools, and DIY works.

Premium genuine goat leather provides comfort and dexterity for all-day wear; Textured PVC palm patches offer extra durability.

High visibility Stretch spandex back provides exceptionally dexterity and breathability; Chainsaw stopper fabric patches inside the back of left hand for extra cut resistance, protection to the EN381-7 standard, class 1,20 m/s.

Neoprene cuff and velcro adjustment ensure firm fitting; Precurved fingers for great fit and grip.

CA65 approved/Comply with the REACH regulation, CE certified with EN388:2122
Chainsaw Gloves Buying Guide
When operating a chainsaw, you should never do so without having the best chainsaw gloves on. It does not matter how professional or how novice you are. The chainsaw gloves will be responsible for ensuring the safety of your sensitive hands. The factors listed below must be put into consideration when shopping for your new chainsaw gloves.
Material
When shopping for chainsaw gloves, always check to ensure that it has pure leather in its construction. This material is known for its elegance and comfort when used in glove construction.
Kevlar
Kevlar is one of the strongest fabrics ever discovered and is mostly used to manufacture helmets and bulletproof vests. The Kevlar fabric is used to increase the gloves' tensile strength to absorb any impacts your hand might experience.
Hydrophobic Feature
Sometimes you have to work in wet conditions. In such conditions, you need your gloves to stay dry for a more comfortable operation.
Safety Standards
The safety gloves must meet the highest safety standards to perform exceptionally. For any glove to be EN certified, it has to undergo rigorous testing and then be ratified. Besides EN, gloves for the American Market have to be compliant with the American safety regulations.
Budget
It is a well-established fact that price does not always guarantee you quality at times. However, this is on infrequent occasions. You should also know that the more features and complex the gloves are, the costlier it will be as more protection is provided in the process.
Maintenance
The gloves are bound to get dirty over a period of time. Thus it would help if you had a pair of easily washable gloves. In this case, there exist some heavy-duty types with armor or rubber protection. These types of gloves may lose their protection when machine washed. Therefore before buying, always look for wash and care instructions.
Size
For things being worn, size is one of the key considerations that you will have to make. In fact, how comfortable you will be while wearing the gloves will depend on the fit. Do not purchase a pair of gloves that are either too big or too small for your hands.
If it is too big, it might slip when holding the chain or tress hence causing accidents. A too-small one will not fit you at all. Confirm your hand size, if it XS to XXL or any other size, before making a purchase. You can as well try it on if the condition allows.
Conclusion
If you're a chainsaw operator, one of the essentials you'll need to have in your toolbox is a good pair of chainsaw gloves for your safety. If you're planning to buy a new chainsaw, it's also advisable to purchase a quality pair of chainsaw gloves as well.
 The market has various safety gloves, which could be confusing for users to choose the right pair. The above buying guide will help you with your purchase. And if you don't want to undergo the lengthy selection process, you can pick one of the 5 high-quality pairs we've chosen for you above and equip yourself for a comfortable, safer chainsaw operation.